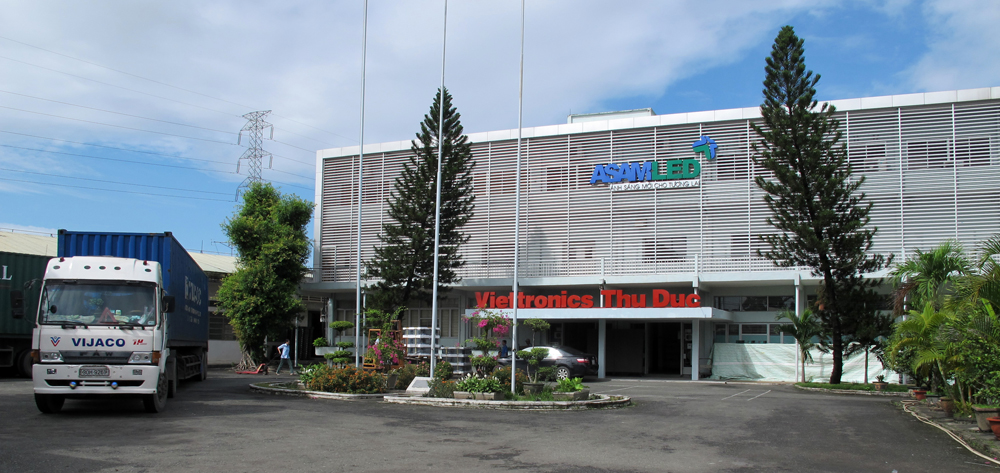 Viettronics Thu Duc (VTD) formerly known as National Enterprise was established in 1971 between the Corporation Matsushita Electric Industrial Co., Ltd (Japan) and Nguyen Thanh Nam Entrepreneur. 1977 Nationalization of the state renamed Enterprise National Vietnam, experiencing long 42 years the company has changed names several times and still today known as Electronics Corporation Thu Duc or also known as Viettronics Thu Duc.
Viettronics Thu Duc is a member company of the VIETNAM ELECTRONICS AND INFORMATICS CORPORATION (VEIC). Currently Viettronics Thu Duc models operate under the parent company, you, in which Viettronics Thu Duc is the parent company with two subsidiaries and three joint venture company, specialized link products:
1/ Technology Company Limited New LED Light 100% of Viettronics Thu Duc, specializes in manufacturing and trading of related products LED and LED application
2/ Electronics Corporation Thu Duc 1 specialty items Audio – Video of Viettronics Thu Duc and Viettronics Thu Duc occupied by governing shares.
3/ Real Estate Co., Ltd VIETTRONICS THU DUC – VTDLand The charter capital of 120 billion VND. VTD capital of 31.2 billion VND
4/ JV Panasonic, this is the traditional partners, long – time relationship with Viettronics Thu Duc, 1996 after returning to Vietnam, the Corporation Matsushita Electric Industrial Co., Ltd (Japan) has selected Viettronics Thu Duc to establish a joint venture.
5/ Associates Thu Duc Centrifugal Concrete 1 (TDC1) this is the company that Viettronics Thu Duc specialized capital contribution in the field of Engineering, Construction, Building Materials.
In addition to its subsidiaries and joint venture companies, the above link Viettronics Thu Duc parent company also invests in apartment building in downtown Ho Chi Minh, investment Buildings in High Tech for professionals businesses in the service sector:
- Hotels, Restaurants, Offices and apartments for rent
- Factory production, warehousing services and transportation
Milestones in the development of Viettronics Thu Duc from its establishment as follows:
1973: Started assembly black and white TV from the National brand 14" – 20", TV special 20" doors TR – 300 is a popular product in the market at that time.
1982: Started Radio cassette assembly.
1984: As the first enterprise to assemble the products TV Nepture and Saturn of Czechoslovakia and Poland.
1985: As the first enterprise to assemble color TV signal Philip and JVC.
1986: Assembling color TVs with copyrighted trademarks of Sony, Sanyo, Toshiba, Samsung, Goldstar, Deawoo, Thomson,…
1993: Assembling exclusive Toshiba color TV brands.
1994: Installation of proprietary brands Panasonic color TV,
1996: Joint venture with Matsushita Electric Industrial Co., Ltd established Panasonic AVC Networks Co., Ltd Vietnam (PAVCV).
1997: Joint venture with Toshiba Singapore Pte., Ltd established Co., Ltd Toshiba Consumer Products Vietnam (TVCP).
2000: Started production of color TV, CD player, VCD, DVD of VTD brands.
2003: Started assembly Monitor color label VTD.
2005: Service Provider Deployment of application Software program.
2009: Implementation of research projects organized manufacturing LED and LED application products save energy in lighting, traffic signals, advertising
2010: Establishment VTD1 Company, the company Asamled – Project of construction investment  in LED manufacturing plant Hi – Tech Park (SHTP)
2013: Establishment of the company VTDLand – Construction project complexes at 30 and 75 Do Xuan Hop.
Company Name: Viettronics Thu Duc Joint Stock Company
Abbreviation: VTD         Trade name: Viettronics Thu Duc
Logo brand identity: 

Address of head office: 15C Nguyen Van Troi Street, Ward 12, Phu Nhuan District, Ho Chi Minh City.
Factory Address: 30 Do Xuan Hop, Phuoc Long A Ward, District 9, Ho Chi Minh City.